The 10 teams have been grouped into two groups. Group A and Group B.
Read the post to get all the details.
As previously announced, the tournament will begin on March 26. Recent developments have revealed the details of the Indian Premier League (IPL) for 2022.
Each of the 10 teams will play 14 games during the league stage of the IPL 2022. Each team will face off against five teams twice and once against four teams.
It was announced by the BCCI (Board of Control for Cricket in India) on Friday (February 25).
According to the Indian cricket board, the seeding system for the two groups consists of winning the most IPL titles and appearing in most finals.
The two teams headed by the five-time winners Mumbai Indians and Chennai Super Kings were the focus of the two groups.
In addition, the two new teams – the Gujarat Titans and Super Giants – have been divided into two groups.
Group A includes Mumbai Indians, Rajasthan Royals, Kolkata Knight Riders,  Delhi Capitals, and Lucknow Super Giants.
In Group B, there are the Chennai Super Kings, Royal Challengers Bangalore, Sunrisers Hyderabad,  Punjab Kings, and Gujarat Titans.

IPL 2022 starts March 26
IPL 2011 also had ten teams included in the auction, but this format is completely different.
There was the same number of league-stage matches for each team, but the division of groups was slightly different.
There were ten teams in two loose groups. Each team played twice against the teams in its own group and once against the other four.
In addition, it has been confirmed that the tournament will begin on March 26 and conclude on May 29.
All sides will play 7 matches at home and as many away, totaling 70 league matches. The group stage will be followed by the 4 playoff matches.
Each team will play four matches at Wankhede Stadium and DY Patil Stadium.
Additionally, each team will play three games at the MCA International Stadium, Pune, and Brabourne Stadium (CCI).
Team divisions in IPL 2022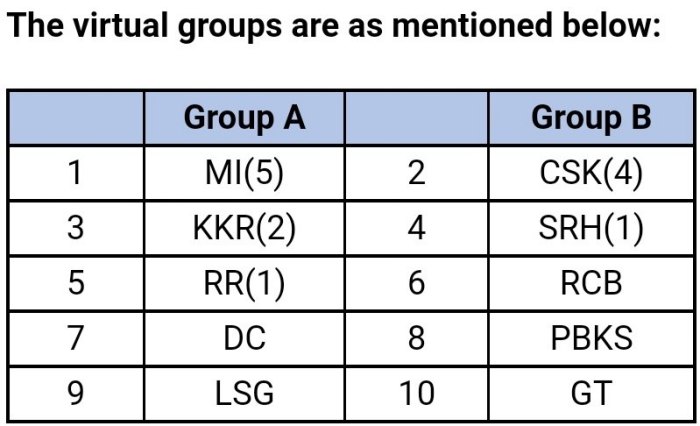 IPL 2022 Groups: The Teams That Are in Group A are:
Mumbai Indians (MI): MI have five IPL Titles.
Kolkata Knight Riders (KKR): KKR have 2 IPL Titles.
Rajasthan Royals (RR): RR have 1 IPL Title.
Delhi Capitals (DC).
Lucknow Super Giants (LSG).
IPL 2022 Groups: The Teams That Are in Group B are:
Chennai Super Kings (CSK): CSK have four IPL Titles.
Sunrisers Hyderabad (SRH): SRH have one IPL Title.
Royal Challengers Bangalore (RCB).
Punjab Kings (PBKS).
Gujarat Titans (GT)
Note: The groups have been divided on the basis of IPL Titles and how many times the teams have reached IPL Final.